Planned exchange of Pilsen Cards
26/01/2015
The long-planned exchange of Pilsen Cards has been commenced on 2 February 2015
The card exchange will be spread over several years and will be done in batches based on the cards' serial numbers (from the lowest to the highest). It is only apply to cardholders who obtained their cards between May 2004 and May 2011. These cards do not have an expiry date printed on them and most of them have already significantly exceeded their guaranteed life.
Cardholders will gradually be called on through information channels to exchange their cards within a particular time period. Two months will be reserved for each numerical series.
First Pilsen Card numbers earmarked for exchange (others will be gradually published):
| Period for submitting applications | Numbers of Pilsen Cards to be exchanged |
| --- | --- |
| February–March | 1–4,999 |
| March–April | 5,000–9,999 |
| April–May | 10,000–14,999 |
| May–June | 15,000–19,999 |
What do I need to submit an application?
• t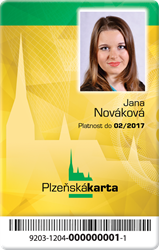 he form "ŽÁDOST O VÝMĚNU PLZEŇSKÉ KARTY-VYSTAVENÍ DUPLIKÁTU PO UPLYNUTÍ GARANTOVANÉ ŽIVOTNOSTI ČIPOVÉHO NOSIČE/PO UPLYNUTÍ DOBY PLATNOSTI VYZNAČENÉ NA ČIPOVÉM NOSIČI" (forms are available onwards at PCTC Customer Centres and in the forms section)
• a current photograph (photographs can be obtained on the spot when submitting the application)
• an identity card or passport
• CZK 170
Remember:
Pilsen Cards for children under 15 years of age should be applied for by their statutory guardian, who should have the child listed on their identity card or should present the child's birth certificate.
A legalised power of attorney will be required if a third party is submitting the application or collecting the new Pilsen Card.
Your new Pilsen Card will be ready within 20 working days. In the first phase it will not be possible to issue new Pilsen Cards while you wait.
What do I need to pick up my new Pilsen Card?
• the counterfoil from the application
• the original (old) Pilsen Card
• an identity card or passport
for children under 15 years of age:
the statutory guardian who submitted the application – his or her identity card
a statutory guardian who did not submit the application – the identity card on which the child is listed or the child's birth certificate
the counterfoil from the application for a duplicate
The new Pilsen Card is issued for a period of five years from the date of issue and will now show the validity date.